Cozy Fall Weeknight Meals the Family Will Love
As the air turns crisp and leaves paint the streets in hues of red and gold, there's something undeniably comforting about the fall season in Baldwin County. On top of the beauty of nature this season, it's also the perfect time to gather around the table with your loved ones and indulge in hearty and flavorful meals that give you that warm and cozy fall feeling. Check out these cozy fall weeknight meals the family will love! 
1. Slow Cooker Beef Stew: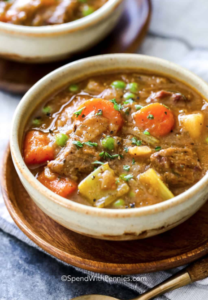 With the fall season here, it's time to break out the slow cookers! Nothing screams cozy quite like a steaming bowl of hearty beef stew. Using a slow cooker allows the flavors to meld together beautifully while you go about your day. Start with tender chunks of beef, vegetables like carrots, potatoes, and onions, and a rich broth flavored with herbs and spices. Let it simmer on low all day, and by dinnertime, you'll have a comforting meal ready to be enjoyed.
2. Creamy Mushroom Risotto: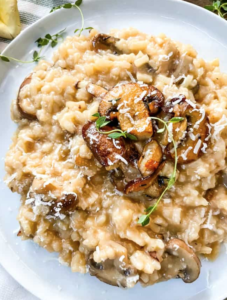 Risotto is a warm, comforting dish that will keep you and your family full and satisfied! In a large saucepan, sauté finely chopped onions and garlic until fragrant. Add your rice and cook until translucent. Slowly pour in warm vegetable broth, stirring constantly until the rice absorbs the liquid. In a separate pan, sauté a variety of sliced mushrooms until they release their juices and become tender. Stir in the mushrooms, grated Parmesan cheese, and a sprinkle of fresh thyme or parsley into the risotto. The result is a creamy and satisfying dish that captures the essence of fall. Visit this website for the full recipe!
3. One Pan Autumn Chicken and Wild Rice Casserole: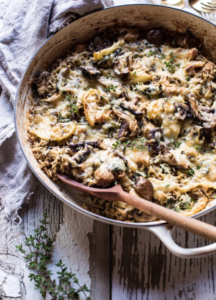 Photo by: https://www.halfbakedharvest.com/one-pan-autumn-chicken-and-wild-rice-casserole/
During busy weeknights, it is hard to decide what to cook for dinner. This quick and satisfying meal that the whole family will love, can be cooked in one pan! Start by sautéing cut chicken with onions and garlic, then add in wild rice, vegetables, and chicken broth. Let it simmer until the rice is tender and the flavors have melded together. The result is a comforting and nourishing dish with an easy cleanup! 
4. Creamy Garlic and Herb Pasta: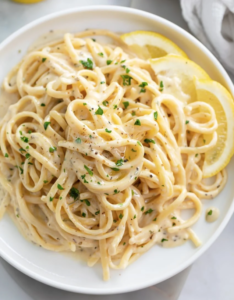 If you are looking for a meal that will feed a large family, choose this aromatic pasta dish! Cook your favorite pasta according to the package instructions. In a separate pan, melt butter and sauté minced garlic until fragrant. Add heavy cream, a pinch of dried herbs like basil, oregano, or thyme, and grated parmesan cheese. Stir the sauce until it thickens slightly. Toss the cooked pasta in the creamy garlic and herb sauce, ensuring every strand is coated. Serve with a sprinkle of freshly grated Parmesan cheese and chopped parsley. This simple yet flavorful dish is a true fall comfort food. Follow the full recipe here: https://thecozycook.com/herb-pasta/#wprm-recipe-container-45438. 
5. Baked Apple Crisp: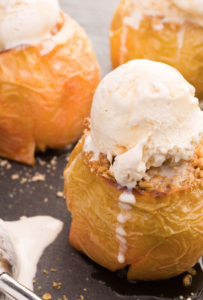 No cozy fall meal is complete without a delightful dessert. Take advantage of apple season with the classic baked apple crisp! Slice fresh apples and toss them with cinnamon, nutmeg, and a touch of sugar. Top with a buttery old fashioned oats and brown sugar crumble, and bake until golden and bubbly. Be sure to top with a delicious scoop of vanilla ice cream for a sweet treat everyone in the family will find delightful!
Contact Us
Fall is a time for gathering, sharing stories, and enjoying delicious meals together. These cozy fall weeknight meals will not only warm your family's hearts but also create lasting memories. While you are cooking in your kitchen, ensure that your home is keeping you just as warm and cozy as your delicious meals! If you are not satisfied with your HVAC system's performance, give us a call. Bama Breeze is here to ensure your fall season in Baldwin County stays cozy and comfortable!
Bama Breeze is a trusted American Standard Heating & Air Conditioning Dealer in Baldwin County, AL. Call us at (251) 952-2915 for more information and follow us on Facebook and Instagram. We are locally owned and family operated, and know coastal Alabama like no one else!